Setting-up a concert means, first of all, welcoming artists. When it comes to sustainability, live music venues can implement many things to welcome artists and their staff in a way that is comfortable for them AND respectful of the planet. This can be done in-house by the venue, as shown by the venues who took part in our previous Digital Safaris. It can also be requested by the artists in a dedicated document called a hospitality rider.
Welcoming the artistic team in an eco-friendly environment is a powerful way to communicate one's values to the outside world and inspire others to do their part in producing and consuming differently. Nevertheless, it is not always easy to implement sustainable actions while answering the artist's demands towards their coming. In other situations, it is difficult to set up sustainable solutions due to various technical and/or surroundings obstacles.
How to answer these challenges while introducing a long-term sustainable policy and actions within live music venues, clubs and festivals?
Find below some examples of green riders and sustainable tips when it comes to artist hospitality.
ACCOMODATION
Accomodation of incoming artists and their staff is one of the most important matters venues and organisers have to think about. Indeed, they have to find the right balance between the accessibility of the venue, the sustainability of the accomodation, and of course the quietness of the place so the artist can rest between two gigs.
Hotels are often the easiest solution but, in a ecological way of thinking, not always the best choice. Some solutions exists: look at the accomodations with a recognised ecolabel, choose a small and independent housing, check if it's easily accessible by public transport or by foot…
In Belgium, 4AD Muziekclub built the 4AD hotel to welcome international artists or residencies. This eco-friendly and cosy infrastructure is accessible for people with disabilities and is only a few steps away from the venue.
This hotel ensures a safe and quiet place to sleep to artists and takes also care of the planet!
DRINKS & CATERING
Plastic-free dishes, vegetarian or vegan meals, homemade food, biscuits in bulk… When it comes to catering, there are many things venues can put in place to reduce their carbon footprint and lower their waste.
REUSABLE BOTTLES
Some of them, such as 4AD, Le Grand Mix or Handelsbeurs lend refillable water bottles to artists and crew, which they can fill-up with filtered water from a water fountain. Venues have testified that it is saving thousands of plastic bottles a year! The purchase of refillable water bottles can be mutualised, as it was done by the FEDELIMA network in France. Although no water bottles are produced in Europe, but rather in China, mutualising their purchase and shipping them via available spaces in cargos that would have made the trip otherwise, is still a solid sustainable solution.
SHOW MORE
DRINK LOCAL, ACT GLOBAL!
The other drinks, whether alcoholic or not, can be purchased from local providers. Le Grand Mix even installed a beer tap on the artist green room to avoid glass bottles and reduce the amount of undrinked beer to be thrown out!
WHAT ABOUT VEGETARIAN CATERING?
When it comes to food, these venues try to reverse our usual habits. They provide 100% vegetarian artist catering by default: to have some meat or fish needs to be specifically required. Switching to a fully vegetarian catering is the most economical and impacting solution to lower carbon emissions! The food comes from local producers as much as possible, and some venues even grow their own aromatic herbs, to have the freshest basil or parsley ever! In case you're out of ideas, check this catering recipes created by 4AD and le Grand Mix as part of the DEMO project!
Of course, some venues don't have the possibility to cook themselve or don't have an intern restaurant. Don't hesitate to look for a local partner who matches with your venue's values! It is also possible to propose biscuits, fruits or seeds in bulk, and to install a water fountain.
As not everyone is vegetarian or vegan, the most important thing is to explain your action, to be transparent on your choices and give information on the desired impact!
If you're lost, you can always refer to the Sustainability in Production Alliance's 10 Quick Sustainable Wins in Catering!
show less
TECHNICS
Artists shine under many lights and other technical tools when performing a concert. Having a more sustainable stage management is a collective work between artists, producers, managers, and technical professionals.
Regarding the lights, the venues who took part in the Digital Safari have gradually changed their traditional light bulbs with LED light fixtures, which saves 750watts per fixture. Of course, there would be no sense in buying up new fixtures all at once: this could be done gradually over the years, whenever a light needs to be fixed, as did Muziekclub 4AD, or venues in the same region can also mutualise their technical equipment and share the purchase and utilisation of supplies, or even rent it rather than buying it!
Some venues, like Handelsbeurs, also have decided to save light backstage, by installing motion detectors and timers, so that nobody forgets to turn the lights off when they leave.
MOBILITY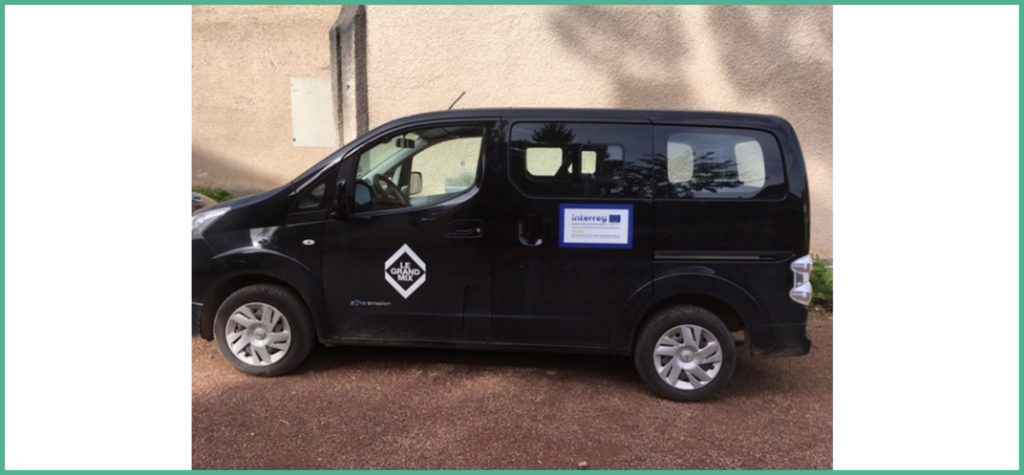 The mobility of the artists is at the core of today's issues. How to avoid taking the plane, transport instruments easily, avoid exhausting long travels, and respect the travel budget at the same time?
Regarding the green mobility of artists, the Green Touring Guide gives an exhaustive list of recommendations for venues, tour managers, promoters and booking agencies.
A quick tip we learned from the Digital Safari of Le Grand Mix, is to ride artists from the train station to the venue, the French venue takes an electric car, a great way to reduce the venue carbon footprint and welcome artists in the best way possible.
But no need to invest in a brand new electric car, other means of transportation are also very sustainable. For instance, ESNS festival in the Netherlands launched their 'Green Touring Support', which encouraged artists who played at their 2022 festival to take the train by covering the financial gap between their normal plans and their sustainable travel plans.
TO GO FURTHER… CLUBTOPIA "GREEN CLUB GUIDE"
Clubtopia, the project which helps Berlin clubs get into sustainability, has released the Green Club Guide (available in German only), which presents some tips for venues to emit less carbon. Some tips relate to artist hospitality, so check it out!
WHAT ABOUT GREEN RIDERS?
A rider is a document which lists all the requirements' an artist needs when performing in a venue. It can cover specific requirements which relate to security, hospitality or technical needs.
More and more artists and live music professionals decide to work with green riders. A green rider is not one which only asks for green M&M's, but a rider which specifies the artist requirements with regards to sustainability. It can cover topics such as the kind of energy used to power the concert, the management of waste, the type of food that needs to be served to the artist, the refusal of single-use plastic, the quantity of printings (and type of paper) needed for promoting or organising a concert, just to name a few examples. The green rider can be used by the venue or artist to communicate about their sustainable commitment, and do their part in implementing some conscious changes in the way the live music sector works.
Find below a few examples of green riders:
SECTORIAL DIALOGUE AND COOPERATION: THE KEY FOR A CONSCIOUS CHANGE OF WORK PRACTICES
As often, cooperation will be the key to the changes that our world needs. The unique initiatives presented in this article need to be deployed at a larger level, and among all actors of the live music chain, from the artists' and venues' side alike.
This is what some organisations are already doing, such as the European Jazz Network or FEDELIMA (France), where they are building green riders in cooperation with artist managers, in order to ensure a structural and positive change in the live music sector.
Some venues also write an eco-guidelines clause to explain their actions. This is also a tool to open a dialogue, exchange with the internal team, the incoming artists, and the public. Don't hesitate to put explanatory posters on the walls, for example above the bins, in the kitchen, backstages…
---